---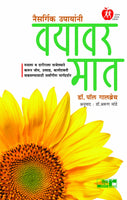 Sale
Marathi translation of the bestseller by veteran Australian Chiropractor Dr. Paul Galbraith. The book (on reversing ageing - the natural way) covers effective rejuvenation techniques, combining the scientific discoveries with the ancient Yoga methods and wisdom.
THE NATURAL WAY TO REVERSE AGEING
At last, it is now possible to not just slow down the ageing process, but to actually reverse it. This breakthrough guide clearly explains how your lifestyle can affect your health and the ageing process – and how it is possible to turn the clock back and look and feel years younger. Combining the wisdom of ancient yoga with the very latest scientific discoveries, Paul Galbraith reveals the three basic ways to reverse the ageing process:
HEALTHY LIFESTYLE - 
such as good nutrition, fitness, deep sleep and mental stimulation
REJUVENATION TECHNIQUES - 
such as yoga, deep breathing and relaxation
'LOOK YOUNGER' EXERCISES
 - including a natural face lift, breast lifting exercises and firm stomach exercises

YOU WILL LEARN ABOUT
• Stress reduction and deep relaxation

• Rejuvenation foods and supplements

• Increasing your height

• Techniques to improve intelligence and memory
 and much, much more
ABOUT THE AUTHOR
Paul Galbraith gained his Doctor of Chiropractic degree in the UK and has practised as a chiropractor for 15 years in Australia. He has spent the last 20 years research on the effects of lifestyle on health on the ageing process.