---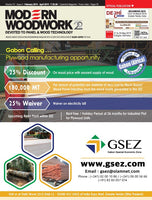 Subscribe to India's largest circulating woodworking magazine. 
Get up-to-date with the global news, views, and trends from the field of woodworking.
Modern Woodwork India is published quarterly in February, May, August, and November. 
You will get it delivered by post/courier 10-15 days after the publication. 
For more details, please visit www.modernwoodworkindia.com.