---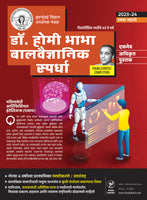 Dr. Homi Bhabha Balvaidnyanik Spardha - 2023-24 (Std. 6th - Marathi Medium)
The latest edition (2023-24) of the official book published by the 'Greater Bombay Science Teachers' Association (GBSTA). The book written by subject experts and authored by the GBSTA (erstwhile MSTA), will equip the students, parents and teachers with all essential information. 
A few highlights of the book : 
• Comprehensive book providing the guidelines for the competition.
• Do's and don'ts for the written test, practical test, action research project and interview.
• Topic for the action research project for 2023-24. 
• Question papers of 2020, 2021 and 2022 with explanations. Plus, additional questions for practice. 
• Model Question Sets for the Practical Test
• Useful tips from past achievers
• Additional reference material
• And a lot, lot more.

About the competition:

The competition, conducted by the GBSTA, is intended to spot and nurture students' interest in science at a very early age. It is held for two segments – 6th standard students and 9th standard students. And hence the official handbooks are designed separately for both these segments.
To prepare really well for the prestigious competition, the aspiring 'young scientists' need to know a lot more than merely a long list of likely questions for the written test. This is so because, besides the written test, the students are also required to go through a practical test, a project and an interview. No other publication offers such a 'complete' fare at present.