---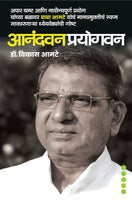 Sale
Baba Amte set up Anandwan (Maharogi Sewa Samiti) in 1948 for leprosy patients. Dr Vikas, the elder son of Baba Amte, now heads the organization 'Maharogi Sewa Samiti', and is the administrator of Anandwan.
Though he is a qualified medical professional however, through his work, he has demonstrated that he is nothing less than an expert engineer, architect, agriculturist and a human rights activist. He, who has been heading Maharogi Sewa Samiti for last 31 years, is a visionary, resourceful and versatile social entrepreneur responsible for ushering in a number of disabled-friendly, eco-friendly, cost effective, innovative, harmonious, sustainable technologies, development strategies, rehabilitation measures for the benefit of people with other disabilities.
This book has captured this experimental approach of Dr. Vikas Amte.
His unique concept of empowerment of physically challenged people with the aid of music has given a new dimension to Maharogi Sewa Samiti. The musical group called 'Swaranandwan' composed of 400 disabled inmates who perform professionally across the state, has garnered millions of rupees for the help of other disadvantaged brethren of the community. His constructive humanitarian activities have proved the dictum of Anandwan 'Parity not Charity' which he vehemently endorsed for the disabled and disadvantaged sections of the society. Rather than leaving the social needs of leprosy patients to the government, he tried to find what is not working and solve the problem by changing the system, spreading the solution, and persuading entire societies to take new leaps. He created thousands of change agents out of the leprosy stricken society, seizing opportunities and improving systems, inventing new approaches, and creating solutions to change society for the better.