---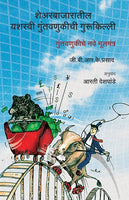 Sale
"Investing in the stock market is increasingly becoming an art at which very few are adept. It takes more than just raw statistics and market reports to gauge which stock has the potential to give the investor a handsome return. How to Choose Winning Stocks: Rewriting Formulas for Investment shows investors how to distill data from the markets to select profitable stocks, avoiding investment risks and traps.
The book is based on the value investment principle advocated by such investment greats as Benjamin Graham and Warren Buffett. The author explains formulas and data analysis methods through which the reader can calculate the potential for profits of company stocks. Analyzing the fundamentals of a company, the common sense approach taken by the book is easy to understand and practise.
The key areas covered in the book are:
- Valuation ratios related to market capitalization
- Analysis of the EPS and Assets Per Share models
- Assessing indebtedness of a company
- Identifying companies based on quarterly results
- Sector-wise profitability analysis
- Mutual Funds
- Unconventional ratios to identify stocks
- Investing tips from available literature
A ready reference for stock market investors, market analysts, investment bankers, and portfolio management services companies, the book is replete with illustrations, diagrams and examples of Indian origin to give even a lay reader an understanding and appreciation of the work. It will prove to be an extremely rewarding investment guide for both amateur and professional investors.
"